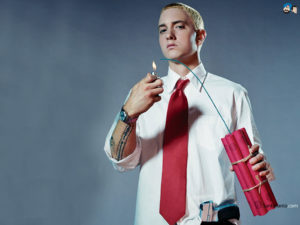 Introverted Extrovert
I'm a find him in the kitchen at parties kind of guy, should I of even gone to the party. Secretly though I want to be an MC "the Bruce Lee of loose leaf" as Eminem would say. I'm pretty sure I'm not alone in this, but one place I've been able to connect with others in the "cool gang" has been through the internet.
I say connect but I've not actually met the "cool gang," I've followed along in the background. I've got a kick out of finding that some of the "cool gang" really are part of a gang, they know each other. It's like an internet version of six degrees of separation, I read one book and it mentions another person's blog, which then points me to someone else's online business, and then someone else's podcast.
If I was to make a family tree of this "cool gang," remember this is from me in the kitchen looking out perspective, it would look something like this.
Read the Four Hour Work Week, heard James Altucher on Tim Ferriss's podcast, read James's book "Choose Yourself", listened to his podcast with Noah Kagan,read his blog, was introduced to Adam @mybodytutor, and I can't remember whose blog, book, or podcast introduced me to Brian Kopplemen, it might have been on everybody's.
What I'm getting at is the internet lets an introvert like me be the extrovert I've always wanted to be. Without these people knowing, I've joined their tribe, a group that's looking in an optimistic way at a changing world. I've even started a blog Who knows, maybe some of the gang might read it one day, maybe I'll start a podcast and ask them to be guests? @Timferriss could tell me how to turn a blog into a "muse" business, @noahkagan could show me how to collect more subscribers using sumo.com, @jamesAltucher can help me get out of bed everyday even when it seems too hard, @AdamGlibert could make sure I eat right to get me through the day, and @BrianKoppelman could make a TV show on it all.
If you're looking for some inspiration, join the tribe, I'm sure they won't mind. While technology might be stealing your job in the future, it's also providing a means to connect with people that just might be able to help you find a better way to make a living.
Some other folks that could well be in the same gang are:
Derek Sivers @sivers
Dan Norris @thedannorris
Taylor Pearson @TaylorPearsonMe
Dan Andrews @TropicalMBA
Minaal @minaal
Ryan Holiday @RyanHoliday
Kevin Kelly @kevin2kelly
Matt Mullenweg @photomatt
Peter Diamandis @PeterDiamandis
Neville Medhora @nevmad
If you've got some others, add them to the list, you may now join the tribe.
Cheers @Generalistalan